OCTOBER 2020 EDIT: I have not been using SextPanther at all in recent months, as I've been focusing on video creation instead. I'm sure many of this advice still applies, but there might be some differences now on how the site looks or optimal use! One main addition since the writing of this article has been the "Explore" page, which I hear has been wonderful for bringing in more internal traffic.
MODELS: If you have not yet signed up for SextPanther, I strongly encourage you to do so now! It takes a couple of days to be approved, and the application is super easy. If you sign up, please consider using my referral link 🙂
In this blog post, I will not attempt to go over all the intricacies of SextPanther. Although it's simpler to get started on and master than many other adult sites, there's still a lot of nitty gritty! Instead, I will go over lots of tips and tricks that can really make a difference in your income.
Some of what I cover here includes how to sign up (and increase your chances of being approved), how to get customers from their internal traffic, and how to really get the most out of your conversations!
Signing Up For SextPanther
The sign up process to become a model is much easier than most adult sites! All you need to provide is a stage name, email address, phone number, and some links to your social media or cam profile.
Click here to access the sign up page!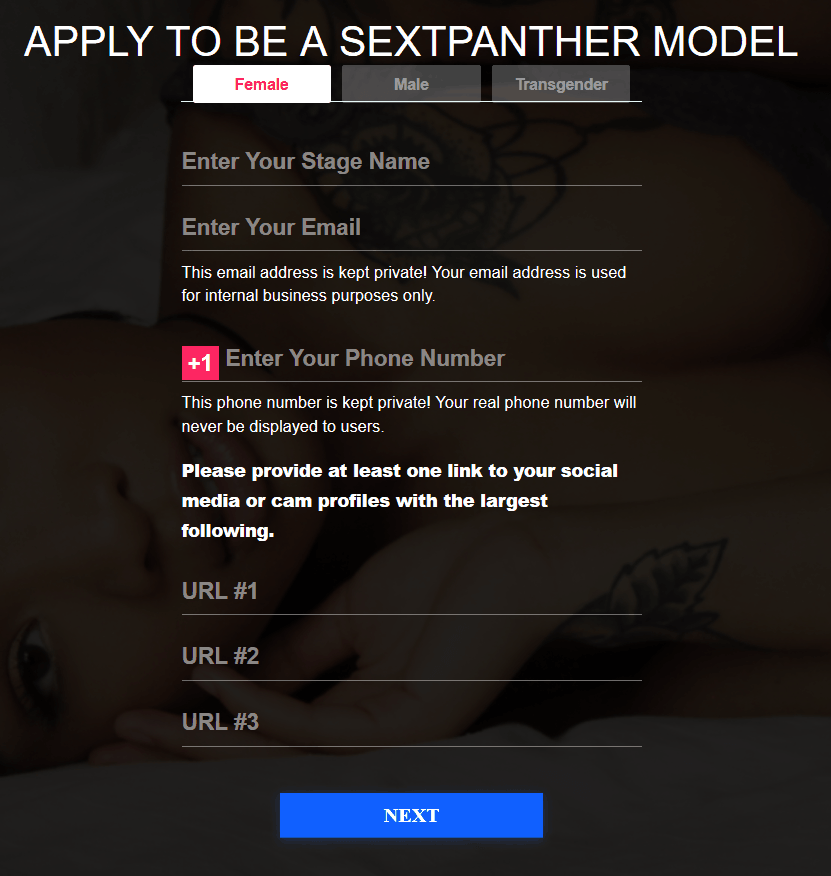 The email address and phone number you use to sign up will be kept private. That being said, I always recommend using a separate email address for sex work. It's so easy to make a new phone number on apps such as TextNow or TextPlus!
If you're looking for a link to sign up, this one uses my referral code and brings you straight to the "Become a Model" page! You can find the application at the bottom of the page, and it can be completed in less than two minutes.
Social Media Requirement
The social media requirement does come as a surprise to some. Unfortunately, SextPanther does not allow models who are brand new to sex work.
You must have a following somewhere, such as Twitter, Instagram, or a cam site. Followings from Reddit or clip sites such as ManyVids may be acceptable.
I know a handful of models who have been rejected by SextPanther because they do not have enough of a following. I also know that most of those who continually tried and applied multiple times, while building up their social media, were eventually approved!
If you were denied, it is definitely worth trying again in a week or so. Make sure you're getting some followers on Twitter, Instagram, Reddit, or a cam site.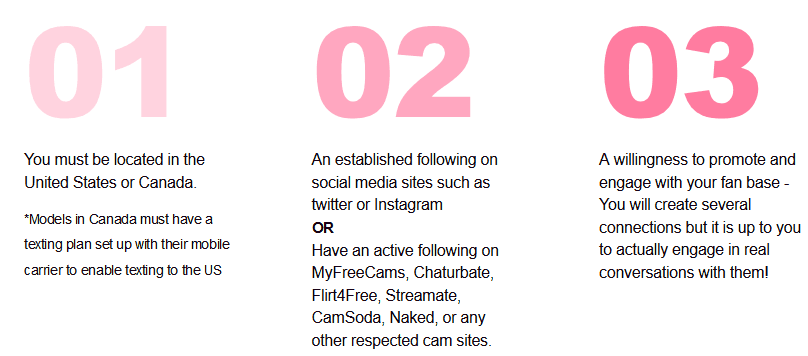 I've heard that using a referral code can make it easier to be accepted, though this hasn't been officially confirmed. If you have a referral code from a friend, you're probably somewhat established in the industry already!
Everyone I know who was rejected the first time, but then eventually accepted, used a referral code for the second or third applications.
Getting Customers
There are two main sources for the customers you'll have on SextPanther: Those who find you on the model pages within the website, and those who have found you elsewhere and follow you onto SextPanther!
Capitalizing On SextPanther Internal Traffic
It's very common for customers to search by the "Online Now" page; I believe it's actually the default search! Luckily for us, it's extremely easy to be shown on the top of it and get seen first! The most recently active models will be shown at the top of this page.
This is one tip that can really change the entire game on SextPanther, but not it's not made obvious! There are two main ways to show up as recently active: Signing into the site, and sending a message.
You may notice that when you're in the middle of a conversation, you get way more new adds; sending messages shows you as recently active and puts you at the top of "Online Now"!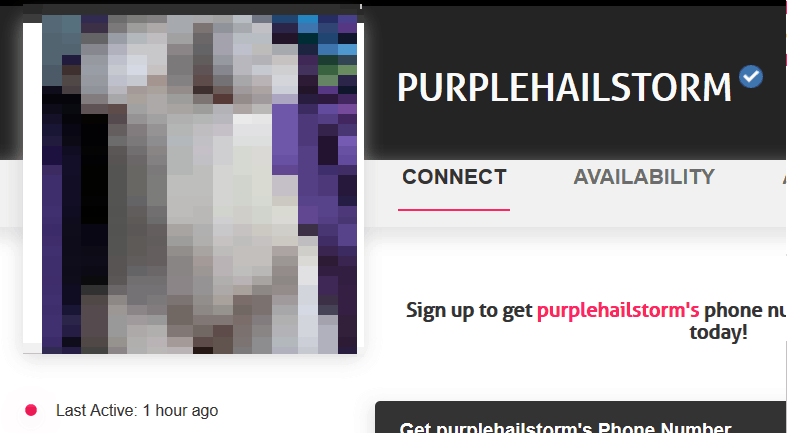 What do you do if no one is texting you, and you want to be shown as active so you can get some new chats? Just sign out. And then sign back in. It really is that simple!
Whenever I'm trying to hustle SextPanther and want some new chats from their internal traffic, I make sure to sign out and back in every 10-15 minutes. It makes a huge difference, and is so easy to do!
Bringing Your Own Traffic to SextPanther
While SextPanther does have its own internal traffic, you might want to bring your own traffic to make even more money!
Although I probably get most of my customers internally, there are a fair amount who find me on Reddit or Twitter and love the idea of getting to text me, so they follow my links to SextPanther.
The most obvious way to bring your own traffic over is by promoting on social media.
I usually do this through Twitter, and occasionally Reddit. I'm sure it could be done on Instagram too, if you have an active account there!
I like to schedule out my promo posts for Twitter, and I have some that link to my SextPanther account.
When advertising SextPanther to your own audience, I always recommend mentioning their free credits! Every new customer on SextPanther gets five free credits, which is equivalent to $5. This could equal a couple messages back and forth or a free pic! Those five free credits are still paid out to you as normal, so there's no reason not to encourage it.
Other Tips
Phone Number
SextPanther gives you the option to charge for your phone number, or to make it free. As a reminder, this is not your real phone number! It's a number that SextPanther relays calls and texts through.
I always recommend making your number free. Customers will always have to pay to message you.
If you are a very well established model in the industry with a large following, you might be able to get away with charging for your number through SextPanther. However, the internal traffic is likely not willing to pay for it!
Keeping Customers Engaged
We get paid on SextPanther for texts, photos/videos (media), tips, and phone calls.
Most models make the bulk of their money from texts and media! You should always engage with your customers in relevant, interesting conversations. If they mention interest in a particular fetish, try to ask questions about it! You could also go into a relevant role play!
Some customers will be more interested in casual conversation; in which case, I go along with that. I don't try to force sexting or sexual chat, I just go with whatever they're in the mood for!
You'll want to send pictures and videos to make money a lot faster, but you'll want to do it at an appropriate time. If you're in the middle of sexting, definitely send media. If you're having a more casual chat, you'll have to use your best judgement!
Pay attention to if this customer has opened the previous media you've sent, and use that information to help decide.
I have some customers who will open every single picture I send, even at random times, and others who never open a single one.
Finally, use mass messages to your advantage! There are a lot of potential strategies here, but the main goal is to usually get conversations going.
I usually like to send an emoji or cute little message along with a picture or video. Asking an interesting question or sending a sexy quip may be good strategies as well! You'll want to be careful to not overdo these mass messages, though. Too many will feel spammy, and customers may remove you from their contacts.
Also, there is a threshold to how many times you can message a customer without response before they're automatically removed from your contacts. At the time of this writing, I believe it is two or three messages without response.
Phone Calls
In addition to texting and sending media, SextPanther does offer the ability to receive phone calls. I occasionally have customers asking if they can call me, but it's not at all a necessary to do well there!
I've only ever taken one call, because usually I'm most active on SextPanther during times when I'm not available to be talking out loud.
One thing I do love about their phone call feature is the minimum length! This means a customer can't call, have a thirty second chat, and then hang up leaving you with a very small payment for that call. Even if they still hang up before the minimum length, you will still receive payment as if they were on the phone long enough.

Summary
So, sign up for SextPanther (preferably using my referral code! <3), sign out and back in often to show up as recently active, promote it on your social media, and have some engaging conversations!
SextPanther can be a fantastic source of income for sex workers, and a little bit of knowledge on how to make the best of the site can really amplify that!
If you're interested in learning about other platforms to work on, I do have a list of my recommended sites for sex workers here!
I hope you enjoyed this blog! If you'd like to read more in-depth about SextPanther, or would like me to discuss another website, please let me know! I read every comment here 🙂