The best videos I put out this past month!
Ranking is mostly determined by which videos had the most sales, but in the case of a tie, I picked the video I liked more at the higher rank!
April was the month where I started 30 Days of Tit Worship, so it should come as no surprise that all of these videos are tit-centric.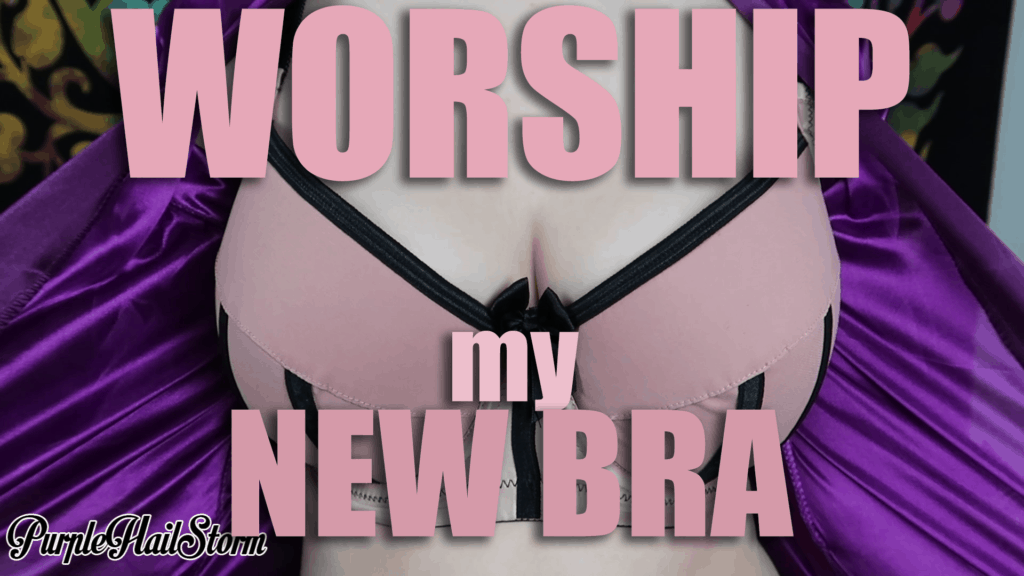 5) Worship my new bra
No surprise that this one made the list… Who doesn't love seeing me in a bra, and hearing all about it?
I have this new bra — let me tell you about how I got it, why, and what happened to all of my previous bras, while letting you worship how perfect and amazing my tits look inside of it.
4:09, $3.99. Click here to view a preview video and get the purchase links!
---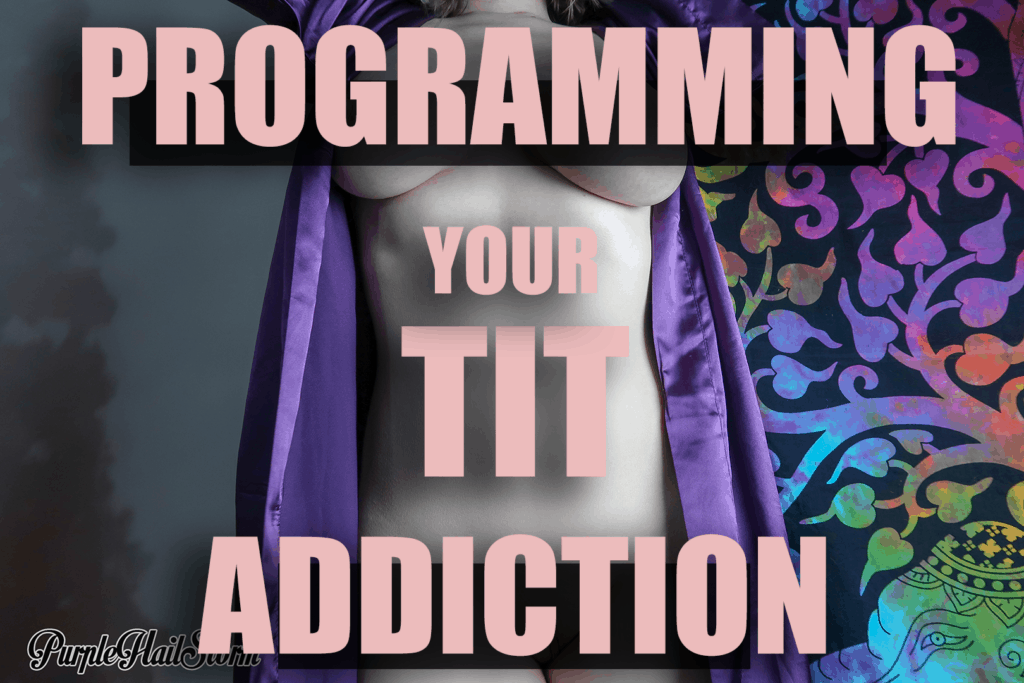 4) Programming your tit addiction
This video was super fun to create. It was recorded as audio only, but I added videos as top to make a rather… Hypnotizing, and very exciting, experience! The feedback on this one was rather amazing. It took a long time to create, but that was so worth it! I may have to do more like this in the future.
It's time to begin programming your tit addiction now. I'm going to implant a trigger into your mind, and every time you hear it, you'll think of my tits! While hypnotized, your mind will be flooded with images and videos of my tits during your programming. Of course, you'll love every moment of it.
13:10, $10.99. Click here to view a preview video and get the purchase links!
---
3) Jiggle addiction
This was the first clip ever where I experimented with slow-motion! Honestly, I can't believe I waited so long. I love the way it came out, and I know you will, too.
You absolutely love watching how my tits jiggle, you might even be addicted to it! So I give you a bit of a show, jiggling my tits in every possible way, with many different angles and movements to love. A few very short portions of this clip are edited into slow motion for extra enjoyment.
4:49, $4.99. Click here to view a preview video and get the purchase links!
---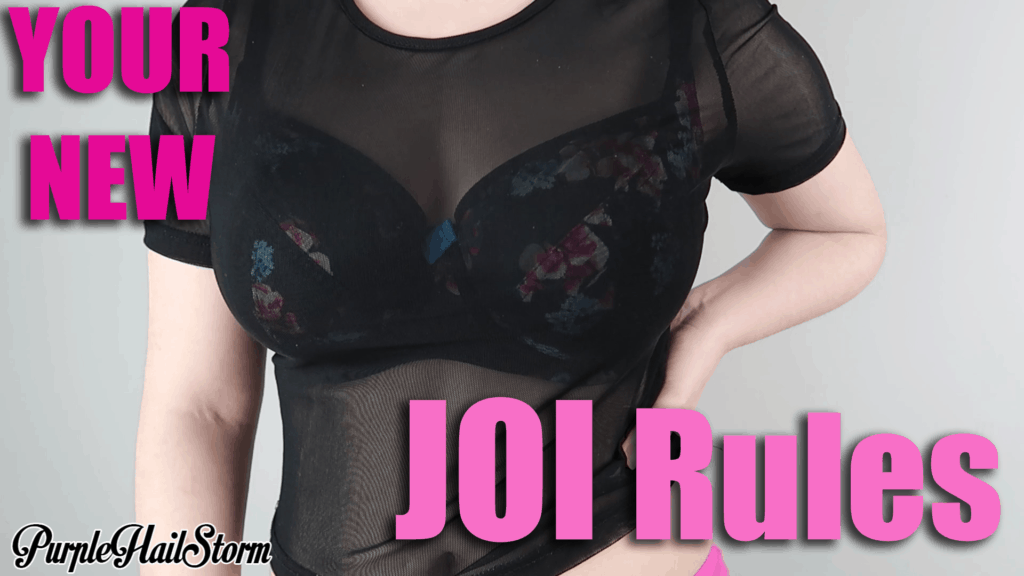 2) Your new JOI rules
No surprise here that a jerk off instruction video of mine was a bestseller! If you haven't seen my blog post on "Jerk off instruction — the most popular fetish?", you should check it out! I bet you'll find it very interesting and relevant.
I have a new rule for your jerking off. And obviously, you're going to obey this rule. You're going to do exactly as I tell you to do. You're going to stroke just as I tell you to, and cum when I tell you to, and follow this new rule without question.
10:41, $10.99. Click here to view a preview video and get the purchase links!
---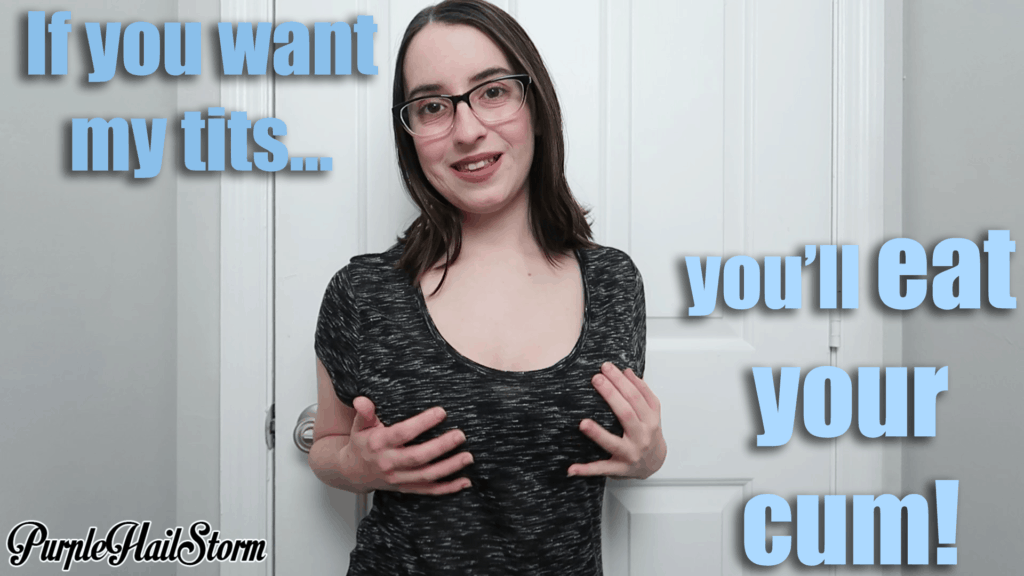 1) If you want my tits, you'll eat your cum!
Now this one… This one was honestly a huge surprise! I did not at all expect it to be number one. I had strong suspicions it would be a best seller, but nothing like this. This video sold twice as much as any other videos have this month. It was like wildfire! The cum eating instructions videos I have done in the past were also rather popular. I guess that means more will be coming?
You know you want to see more of my tits. You crave it. You need them. But, you have to do something for me before I give you that permission! You have to serve me, first. I want you to eat your cum. You can do it however you want, but you need to eat your cum, and I know just the way to make sure that you won't chicken out first…
9:31, $9.99. Click here to view a preview video and get the purchase links!
And there we have it!
Our five best videos from this past month.
So, what will be up for May? Let me know your recommendations in the comments! I can't wait to get filming.
Where to find more of me
I can be found on social media, as well as a bunch of clip stores, all listed below! If you enjoyed this article, please be sure to leave a comment, join my mailing list and get a free video, share it on social media, or even make a purchase!